One I was on Youtube checking out my subscriptions, and came upon a video on the Youtube Channel
LA Chronicles
where Olina (plus you can check out her instagram
OfficiallyOlin
a shared her Tilapia coconut curry recipe. I fell in love and decided to do my own version with the ingredients I have at home, plus you might notice one major change, which I usually put into my curries...chopped fresh tomatoes...I didn't have any...so I had to leave that out.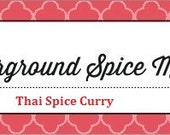 Tilapia Coconut Curry
INGREDIENTS
1 medium sweet potato, large dice
2 tbsp vegetable oil
1/2 medium onion, dice
5 each mini sweet peppers, sliced
1 tbsp minced garlic
10 sprigs fresh mint leaves
2 tbsp Underground Spice Market's White Thai Curry Spice Blend
1 tbsp red curry paste
1 (14oz) can coconut milk
4 each tilapia fillets (each fillet cut into 5 chunks each)
2 cups San Fransisco Blend by
LaFe
(or a 2 cup mixture of your favorite vegetables, this blend has precooked haricot vert, broccoli florets, chopped red bell pepper and sliced mushrooms)
INSTRUCTIONS
Boil the sweet potato until tender but firm
In a large pot, heat up the oil and add the onions, sweet peppers, minced garlic and mint leaves (sweat for 2 minutes).
Add my white Thai curry spice blend, curry paste and stir for 1 minute.
Add the coconut milk and bring to a boil, then bring down to a simmer.
Add the Tilapia fillets chunks.
When you see the fish chunks are almost done, add the pre-cooked vegetables and just allow the vegetable to heat up.
check the seasonings, and serve over white rice, brown rice, noodles...your choice!